As the sun shines down and the temperatures rise, Barcelona transforms into a summer paradise. Whether you want to cool off in the Mediterranean, chow down on tapas or party with the locals, this city has got you covered. Here are the top 10 hottest things to do in Barcelona this summer!
1."Barcelona's Beach Bliss: 4 km of Sun, Sand, and Watersports Galore!"
Indulge your adventurous side with thrilling watersports at Barceloneta Beach. Try SUP or jet skiing while enjoying the sun-drenched shores of Barcelona. With over 4 km of stunning beaches, the city offers a paradise for beach lovers seeking respite on hot summer days. Take a dip in the crystal-clear waters or engage in beach activities. From lively Barceloneta Beach to tranquil Nova Icaria Beach, each stretch of sand has its unique charm, ensuring a perfect spot for everyone to bask in Barcelona's coastal beauty. 🌊🏖️☀️
2. "Sweet Indulgences: Spanish Horchata and Artisanal Ice Cream Delights in Barcelona!"
"Taste the Cool Delights: Spanish Horchata and Artisanal Ice Cream in Barcelona! Indulge in the traditional milkshake made with tiger nuts at Horchateria El Tio Che or Sirvent. Alternatively, satisfy your cravings with delectable artisanal ice cream at Swiit Ice Cream or Delacrem. Experience the refreshing flavors that Barcelona has to offer and treat yourself to these sweet sensations on a sunny day. Discover the perfect chilly delights to beat the heat in the vibrant city!"
3. "Sant Joan Fiesta: A Dazzling Explosion of Bonfires, Fireworks, and Cava in Barcelona's Gothic Quarter!" 
"Embrace the Vibrant Spirit: Sant Joan, Barcelona's Grand Cultural Celebration, (June 23 to 24), Sets the City Aglow with Magnificent Bonfires, Dazzling Fireworks, and an Abundance of Bubbly Cava. Experience the Enchanting Fiesta that Transforms the Beaches and Streets of the Gothic Quarter into a Spectacular Tapestry of Light, Sound, and Joy. Immerse Yourself in the Unforgettable Atmosphere as Locals and Visitors Unite to Revel in this Unparalleled Extravaganza, Marking Sant Joan as One of the Most Unmissable Cultural Events of the Year!"
4. "Unleash Your Inner Freedom: Barcelona's Nudist Beaches Offer Au Natural Relaxation on the Wild Side!"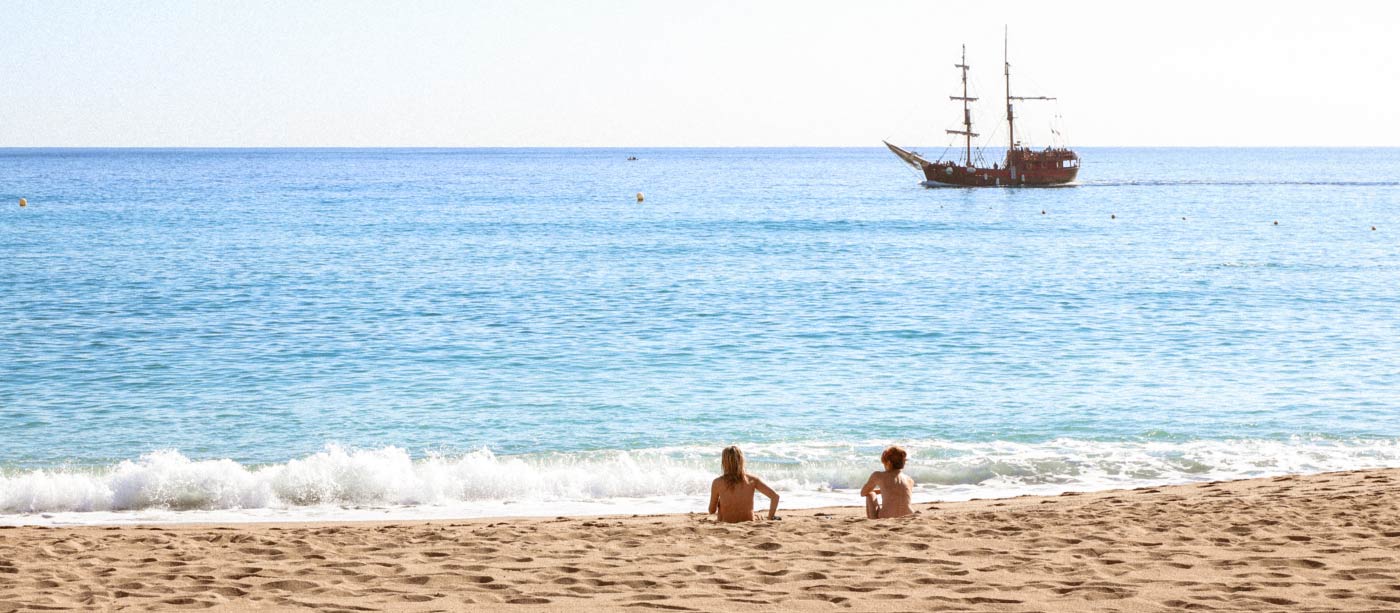 Embrace Barcelona's Nudist Beaches, Mar Bella and San Sebastia, and Rediscover the Joy of Au Natural Relaxation. Leave Inhibitions Behind as You Walk on the Wild Side, Immersed in the Beauty of these Serene Coastal Retreats. Unwind and Rejuvenate Your Body and Mind, Basking in the Warmth of the Mediterranean Sun. Indulge in the Sensation of Freedom and Acceptance, as Barcelona's Nudist Beaches Provide a Safe Haven for Those Seeking a Truly Authentic and Unforgettable Beach Experience."
5. "Savor Barcelona's Culinary Delights: Embark on an Unforgettable Food Tour of Tapas, Seafood, and Local Flavors!"
"Embark on a Delectable Gastronomic Adventure: Explore Barcelona's Vibrant Culinary Scene, Indulging in a Feast of Flavors, from Mouthwatering Tapas to Fresh Seafood Delights. Join Our Unforgettable Food Tours, Available in Daytime and Evening, and Immerse Yourself in the Rich Tapestry of Barcelona's Finest Culinary Delights. Discover Hidden Gems and Local Favorites as Our Expert Guides Lead You Through the City's Culinary Hotspots, Unveiling the Secrets Behind Each Tantalizing Dish. Get Ready to Savor Every Bite and Experience the True Essence of Barcelona's Food Culture!"
6. "Captivating Sunset Magic: Barcelona's 'Magic Fountain' Unleashes a Mesmerizing Symphony of Water, Light, and Music!"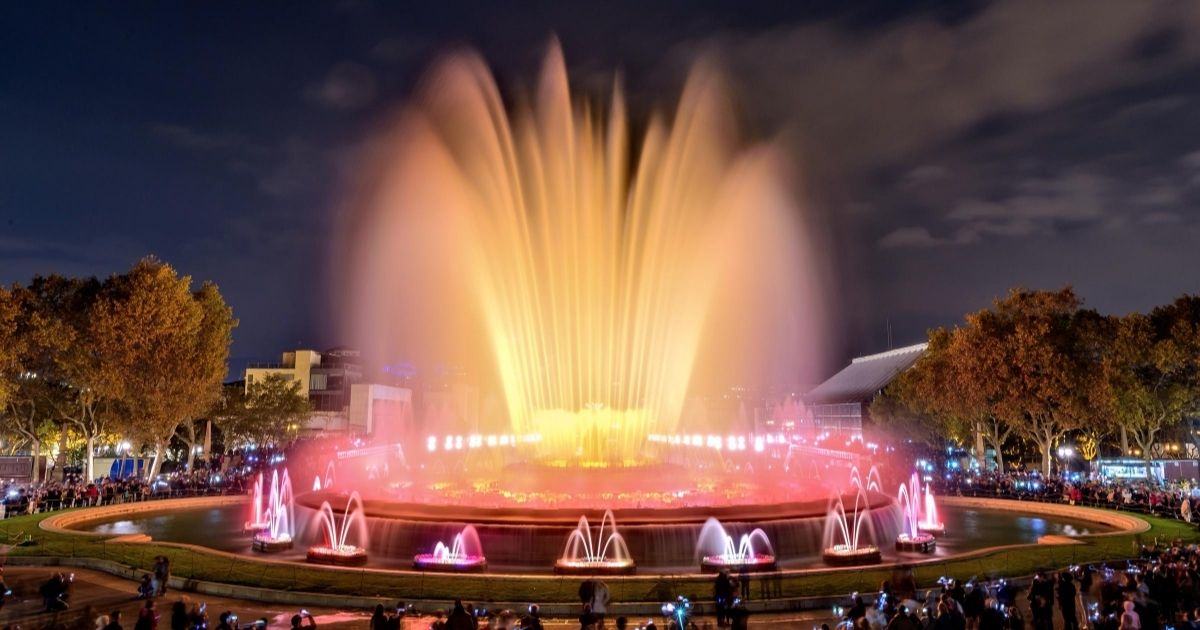 "Experience the Enchanting Sunset Spectacle: Witness the Mesmerizing Harmony of Water, Light, and Music at Barcelona's 'Magic Fountain.' Let the Captivating Display Transcend Your Imagination as Colors Dance on the Cascading Waters, Creating a Spellbinding Symphony of Sights and Sounds. The Sunset Unveils an Extraordinary Performance, Illuminating the Night Sky and Leaving You in Awe. Don't Miss the Opportunity to Be Transfixed by this Unforgettable Fusion of Art and Nature, as the 'Magic Fountain' Paints a Picture of Pure Wonder and Delight."
7. "Sky-High Delights: Enjoy Rooftop Cocktails with Breathtaking Views at Barcelona's Exclusive Hotels!"
"Elevate Your Sightseeing Experience: Ascend to the Rooftop Terraces of Barcelona's Prestigious Hotels, Such as the Majestic Hotel and Grand Hotel Central, Where Breathtaking Views Combine with Exquisite Cocktails. Immerse Yourself in the Stylish Ambiance, Sipping on Handcrafted Libations as You Gaze Upon the City's Stunning Panorama. Indulge in the Ultimate Fusion of Luxury and Leisure, Letting the Rooftop Terraces Become Your Oasis in the Sky, Providing an Unforgettable Blend of Opulence, Scenic Beauty, and Unparalleled Hospitality."
8. "Experience the Creative Wonderland: Gracia Festival – Where Art, Music, and Drinks Unite in Barcelona's Bohemian Streets!"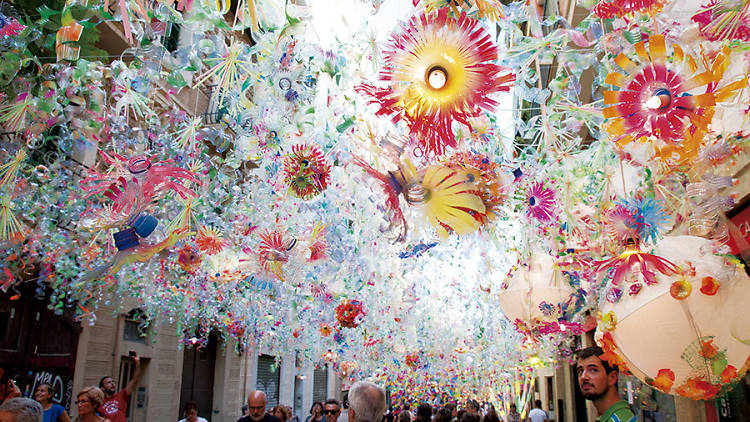 "Immerse Yourself in the Vibrant Gracia Festival: Step into a Bohemian Wonderland as the Streets of this Neighborhood Transform into a Dazzling Display of Creativity, Bursting with Vibrant Decorations, Enchanting Music, and Festive Libations. Join the Festivities and Indulge in the Electric Atmosphere, Discovering Artistic Treasures at Every Turn. Witness the Passion and Ingenuity of Local Artists as they Showcase their Unique Creations. From Spectacular Street Decor to Live Performances, Let the Gracia Festival Ignite Your Senses and Leave You Spellbound in the Heart of Barcelona's Cultural Delights."
9. "Under the Stars: Barcelona's Outdoor Cinemas Transform Beaches into Cinematic Wonderlands!"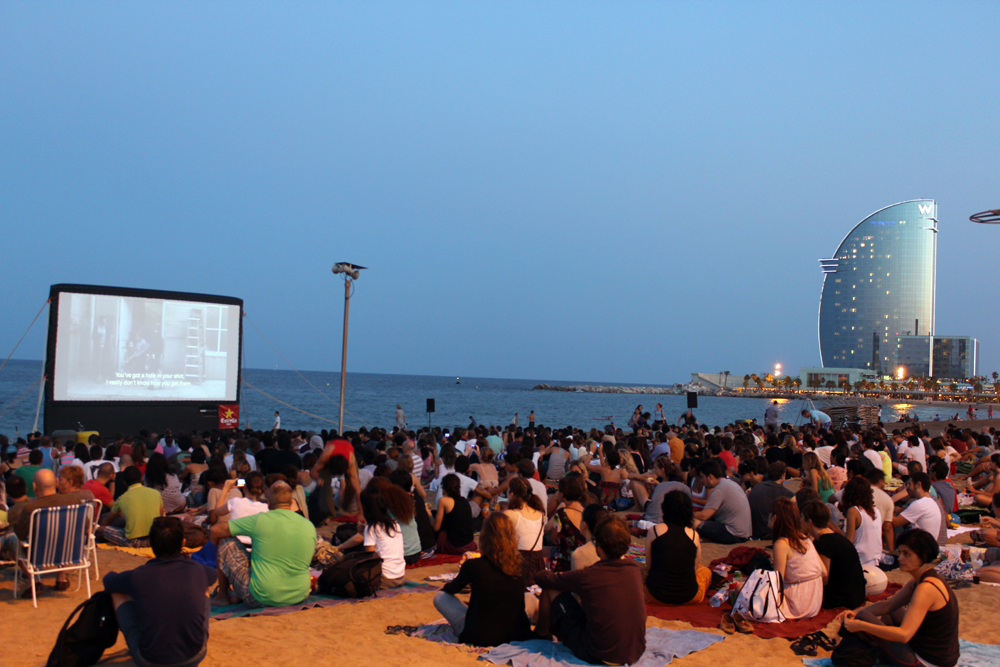 Join Barcelona's Film Enthusiasts for Open-Air Movie Screenings at Iconic Montjuic Castle or Cinema Lliure a La Platja, Transforming the City's Beaches into Enchanting Outdoor Cinemas. Experience the Magic of Film Under the Starry Sky, as Breathtaking Backdrops Set the Stage for Memorable Movie Nights. From Classic Masterpieces to Contemporary Gems, Indulge in a Diverse Selection of Films, Accompanied by the Gentle Sea Breeze and the Company of Fellow Film Lovers. Let Barcelona's Outdoor Cinemas Transport You to a World of Cinematic Wonder and Imagination!"
10. "Picnic Serenity: Escape the Heat and Embrace Relaxation in Barcelona's Leafy Parks!"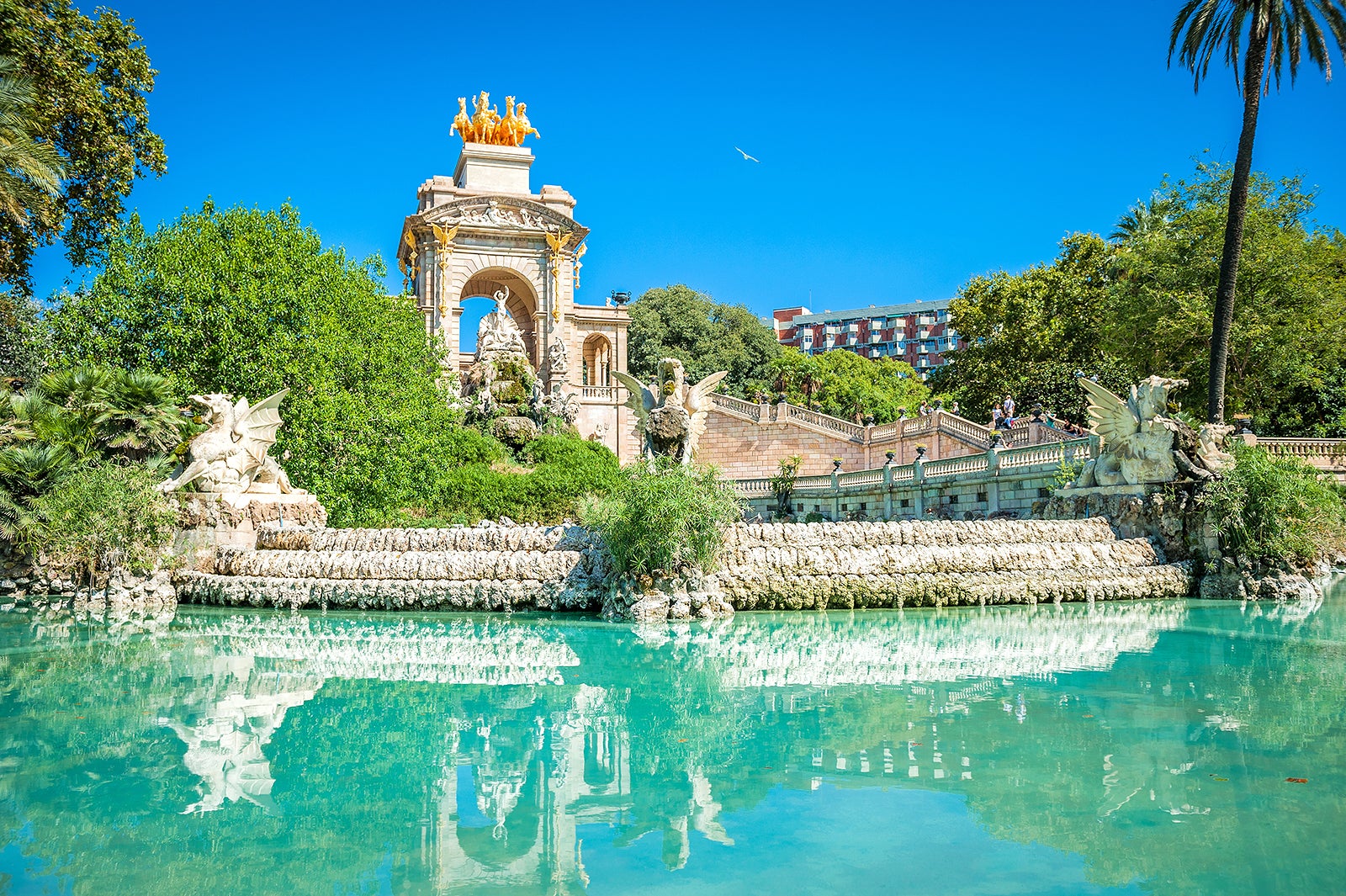 "Embrace Tranquility: Beat the Heat and Embrace Leisurely Bliss in Barcelona's Serene Parks, such as Parc de la Ciutadella or Parc de Joan Miró. Relish a Delightful Day of Respite, Surrounded by Lush Greenery, as You Indulge in a Picnic Spread, Sharing Delicious Food and Cherished Moments with Loved Ones. Let the Calming Ambiance of the Parks Envelop You, Offering an Oasis of Relaxation Away from the Bustle of the City. Unwind, Recharge, and Create Lasting Memories Amidst Nature's Embrace in Barcelona's Verdant Haven."
Experience Barcelona's best with Eye On Food Tours. Discover our diverse tours blending culinary delights, history, and sightseeing. Immerse yourself in the vibrant food scene while our expert guides share fascinating stories. From tapas crawls to market tours and cooking classes, our itineraries offer a perfect balance of gastronomy and local insights. Let us be your gateway to an unforgettable, multi-dimensional Barcelona experience. Visit our website and choose a tour or let us tailor one to your preferences. Enjoy the flavors, history, and landmarks with Eye On Food Tours.
June 4th, 2023 | Words and photos by Charles Liondae for Eye On Food Tours