Once known as Barcelona's red-light district, Raval has undergone a remarkable transformation in the past decade and has become the city's bohemian hub of creativity. From contemporary art exhibitions and trendy restaurants to vintage boutique stores and vibrant nightlife, there is so much to explore in this exciting neighborhood.
Start Your Day with a Scrumptious Brunch
Raval is renowned for its trendy cafes and restaurants, and brunch is the perfect time to indulge. Head to the classic Marmalade Restaurant & Lounge for delicious brunch classics like eggs Benedict, huevos rancheros, and invigorating Bloody Marys. The ultra-hip Caravelle offers specialty coffee and colorful dishes such as Moroccan-style baked eggs with avocado and coconut French toast with strawberries and ice cream. For a healthier option, visit Flax & Kale for plant-based flexitarian dishes and cold-pressed juices. It's the ideal way to kickstart your day!
Explore the Iconic Vintage Shops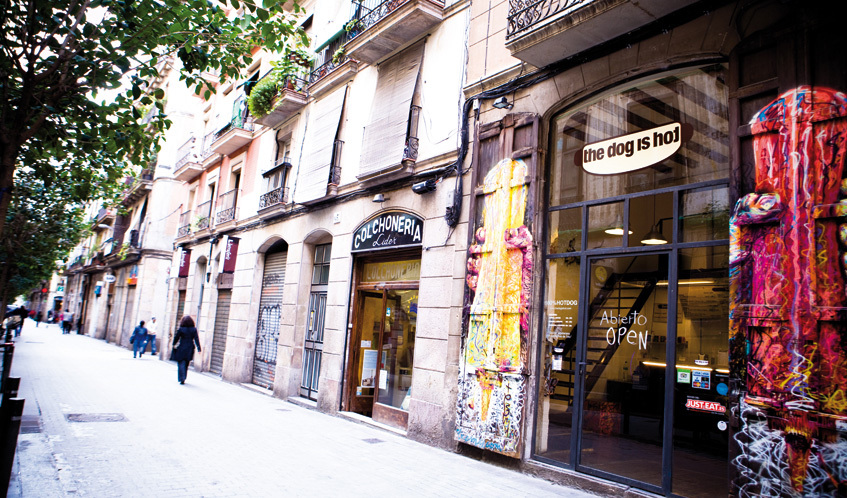 Raval is a haven for vintage fashion enthusiasts, with numerous charming boutiques and stores lining the famous shopping streets of Carrer de Tallers, Carrer de la Riera Baixa, and Carrer de la Riera Alta. However, there are a couple of must-visit stores you simply can't miss! Check out the expansive Holala! Plaza for funky shirts, t-shirts, jeans, jackets, dresses, and shoes from the 60s, 70s, 80s, and 90s. They also have an impressive selection of retro paraphernalia, including old computer games, roller-skates, skateboards, and homewares. Lullaby Vintage Store is another popular option, overflowing with vintage haute couture and jewelry. And if you're on a budget, don't forget to visit Kilostore, where you can buy pre-loved treasures by weight. Leave some space in your suitcase and get ready for incredible bargains!
Indulge in Raval's Legendary Bars
Raval is renowned for its dynamic nightlife scene and is home to some of the city's oldest bars. Take a stroll along the lively Carrer de Joaquín Costa, adorned with famous bars like the bohemian Casa Almirali, founded in 1860, the retro Olympic Bar, and the trendy Betty Fords. Experience a shot of flaming absinthe at the unbelievably ancient Bar Marsella, a favorite haunt of Hemingway, Dalí, and Picasso, or visit the iconic bar at Boadas, Barcelona's oldest and most enchanting cocktail bar.
Stroll Along the Rambla del Raval
On a sunny day in Barcelona, indulge in a leisurely stroll along the palm-lined Rambla del Raval. Discover trendy bars, inviting restaurants, and charming terraces where you can unwind with a refreshing drink. Don't miss the iconic Gato de Botero, a beloved sculpture by renowned artist Fernando Botero, affectionately known as the "Raval Cat." This captivating artwork adds an enchanting touch to the vibrant ambiance of the neighborhood, inviting you to pause and appreciate its playful presence.
Join the Revitalization: Immerse Yourself in Raval's Vibrant Cultural Scene 
Art and culture have played a vital role in transforming Raval into a must-visit neighborhood. Two of the most important cultural institutions here are the mind-expanding Museu d'Art Contemporani de Barcelona (MACBA) and the Centre de Cultura Contemporània de Barcelona (CCCB), where you can explore everything from contemporary art to photography exhibitions and audiovisual performances. If you're a film lover, the Filmoteca de Catalunya is a must-visit, celebrating the art of historic and modern-day cinema.
Museu Marítim de Barcelona
Step into Barcelona's ancient shipyard, now transformed into the captivating Maritime Museum. The moment you enter, you'll be captivated by the grandeur of the building, adorned with magnificent Gothic arches that whisper tales of the past. Delve deeper into maritime history as you admire the intricate models and full-size boats, each one a testament to centuries of seafaring adventures in the Mediterranean. Discover the secrets of the sea and immerse yourself in the fascinating stories woven within these hallowed halls.
Discover Gaudí's Enigmatic Palace
Within the vibrant neighborhood of Raval, lies one of Antoni Gaudí's lesser-known architectural marvels. The enigmatic Palau Güell, with its eerie castle-like façade, stands as a testament to Gaudí's visionary genius. Originally constructed as a lavish residence for the esteemed businessman Eusebi Güell, who also entrusted Gaudí with the creation of Barcelona's iconic Park Güell in the city's north, this palatial masterpiece showcases Gaudí's distinct style and imagination. Immerse yourself in the captivating atmosphere as you explore the intricate details and unearth the hidden stories behind this extraordinary creation by one of the world's most celebrated architects.
Visit La Boqueria
Barcelona is famous for its vibrant food markets, and La Boqueria is the largest and most impressive of them all. While the main entrance opens onto the iconic boulevard of Las Ramblas, the market itself is located in the Raval neighborhood. Explore the stalls and witness the traders' expertise as they work their magic. Don't forget to make a pit stop at the renowned Pinotxo Bar for traditional tapas and a glass of wine.
Enjoy Stunning Rooftop Sunsets
Located on the leafy Rambla del Raval, the Barceló Raval Hotel boasts one of the most spectacular rooftop terraces in Barcelona. Take the elevator to the top floor and marvel at the 360-degree views of Barcelona's breathtaking skyline. Grab a drink from the bar and witness the sun dip below the horizon – an absolute spectacle!
Hungry for more?
Discover Barcelona's culinary treasures with Eye On Food Tours. Join us for a delectable food adventure through the ancient streets of Barcelona, where we'll unravel the sights, smells, flavors, and stories of this unique metropolis. Indulge your taste buds, explore local markets, and savor traditional tapas as our expert guides provide an immersive and authentic experience. Let Eye On Food Tours be your guide to uncovering the vibrant culinary heritage of Barcelona, creating delicious memories that will last a lifetime. Get ready to embark on a mouthwatering journey with us.
June 5, 2023 | Words by Charles Liondae, for Eye On Food Tours